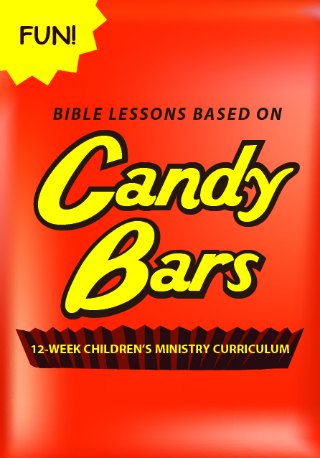 Kids love candy – especially this time of year with Halloween coming up fast. Why not sure that to teach kids about God's Love?
Check out this Candy Bars Children's Church Curriculum from our friends at Children's Ministry Deals. It's one of the most popular Bible studies on their website and for good reason.  It uses kids favorite candy bars to teach lessons from the Bible.  They can download a free lesson based on Snickers.
You can get the first lesson free to teach and evaluate. It's based on Snickers – They say that "Snickers satisfies." Kids will learn that we can be truly satisfied with Jesus. John 4:4-26, The Living Water.
Why not use this one in October for a Halloween alternative?
The rest of the series is just as fun. Here is more information:
M&Ms – No matter if your favorite color is red, yellow, blue, green, or brown… there is something for everyone in a bag of M&Ms. In the same way, God's goodness satisfies all of our needs. Matthew 14:13-21, Feeding the Five Thousand

Reese's Peanut Butter Cups – They say there's no wrong way to eat a Reese's. Kids will learn that there is only one way to God the Father, and that's through Jesus. John 14:1-14, The Way, The Truth, The Life

Kit Kat – To enjoy this candy, you have to "Break off a piece of that Kit Kat bar." Kids will learn that even when things are breaking apart, God takes care of us. Acts 16:16-36, Paul And Silas in Prison

Reese's Pieces – These candies may be small, but that doesn't mean they aren't incredible. Kids will learn that no matter how small we are, Jesus loves us incredibly. Mark 10:13-16, Jesus and the Little Children

Milky Way – The name of this candy bar reminds us of the vastness of the universe. Kids will learn that God has big plans for us – greater than anything we can imagine. Genesis 12:1-7, The Call Of Abram

Twix – Twix always come in two, like the animals that came two by two into the ark. Kids will learn from the story of Noah that two things that always go together are God's power and God's love. Genesis 7:6-18, 8:15-22, Noah's Ark

Crunch – This amazing candy comes with an unexpected crunch. Kids will learn that God does amazing and unexpected things for us. Exodus 13:20-14:29, Crossing the Red Sea

Three Musketeers – The image on this candy is the Three Musketeers- friends who always stick together. Kids will learn through the story of Shadrach, Meshach, and Abednego that we are wise if we always stick with God. Daniel 3:8-30, The Fiery Furnace

Butterfinger – The Butterfingers slogan says, "don't lay a finger on my Butterfinger." Kids will learn that God's touch brings us forgiveness and love. Luke 7:36-50, Jesus Anointed

Hershey's Milk Chocolate Bar – Some people don't need the nuts, nougat, and caramel; just give them pure milk chocolate. Kids will learn that when we encounter Jesus, he makes us pure. Luke 8:42b-48, Jesus Heals a Sick Woman

Almond Joy – For those who love the taste of coconut and almond, this candy bar is pure happiness. Kid will learn that when we meet Jesus, he fills us with unspeakable Joy. Luke 17:11-19, Jesus Heals 10 Lepers
Candy Themed Bible Curriculum Includes
Memory Verse
Skit
Object Lesson or Kids Sermon
Large Group Game
Large Group Lesson Outline
Small Group Discussion Questions
Make It Stick! Parent Sheet
Graphics
About This Children's Ministry Curriculum:
Instant Download
Designed for Kids Ages 6-12
12-Week Series
Includes Both Large Group and Small Group Resources
Perfect for Children's Church or Sunday School
We pin snack, craft, and game ideas for each of our Children's Ministry curriculum series' on their Pinterest board.