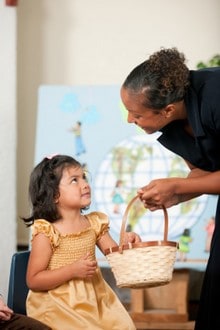 This page links to our free lesson plans for children's church. You can always find more by using the search box to the right. Much of this material could be adapted for different teaching contexts. You can find many more Bible lessons listed on our main index page. Don't forget the search page is the easiest way to find a specific story or theme. This website exists to make your ministry better, so leave a comment if you would like to suggest a specific lesson topic or story.
Hassle-Free Lesson Plans
These are perfect when you're short on time and need a children's church lesson that can work with minimal preparation. They start with a basic lesson plan and then suggest additional activities if you have more opportunity to prepare.
Creation Bible Lessons
We have a whole series of children's church lessons based on the Days of Creation. They included printable coloring sheets and detailed lesson instructions.
Discovering the Divine
Browse our four-part series of Bible lessons for children about knowing God written by Kara Jenkins. These lessons are targeted for older elementary children in mind, but could be modified for younger children too. This curriculum is intended for children's church or Sunday School. You could also modify it for a homeschool Bible lesson or family devotion.
The Story of Moses
This five-part series follows the story of Moses and has versions for both preschool and elementary aged children. It was written by FELICIA MOLLOHAN and includes activities, printables, and some craft ideas to help children stay engaged with the kids lesson.
Guess Who's Coming To Dinner With Jesus?
This series of lessons reflect on the spiritual fellowship that Jesus wants to have with us and point to the ongoing importance of the Lord's Table in the life of the church. Jesus Turns Water Into Wine (John 2:1-11) | Jesus Accepts Zacchaeus (Luke 19:2-10) | Breakfast On The Beach (John 21:4-14) | The Passover Children's Bible Lesson| Jesus visits Mary & Martha (Luke 10:38-42)
Walk In His Ways
This series of Bible lessons was first created to be used during the Lenten season, but these stories about following Jesus are excellent for children's church any time of the year.  Parable of the Two Sons (Matthew 21:28-32) | Parable of the Good Samaritan (Luke 10:25-37) | Parable of the Great Feast (Luke 14:12-24) | Parable of the Rich Fool (Luke 12:16-21) | Parable of the Lost Coin (Luke 15:8-10)
Browse Related Activities | Sunday School Lessons | Bible Lessons for Kids | Preschool Bible Lessons | Children's Sermons | Bible Coloring Pages | Sunday School Crafts | Sunday School Games | Kids Worship Songs | Family Devotions