Make scripture memory a habit in your family & ministry. Download this printable list of 52 short Bible verses for kids. Children can start today and memorize one each week of the year.
Printable: 52 Bible Verses for Kids
We made this visual presentation of our favorite Bible verses for kids. You could use it in Sunday School or at home to help reinforce the
52 Simple Memory Verses
Acts 16:31 – Believe on the Lord Jesus Christ, and you will be saved.
Psalm 145:9 -The LORD is good to all.
Genesis 16:13 – You are the God who sees.
Philippians 4:4 – Rejoice in the Lord always. I will say it again: Rejoice!
Proverbs 14:5 – A honest witness does not lie, a false witness breaths lies
Numbers 6:24 – The Lord bless you and keep you
Colossians 3:2 – Set your minds on things above, not on earthly things.
Colossians 3:16 – Let the word of Christ dwell in you richly
1 John 5:3 – This is love for God: to obey his commands
Ephesians 4:30 – And do not grieve the Holy Spirit
Hebrews 13:8 – Jesus Christ is the same yesterday, today and forever.
Psalm 150:6 – Let everything that has breath praise the Lord.
Proverbs 3:5 – Trust in the Lord with all your heart.
Romans 10:13 – Everyone who calls on the name of the Lord will be saved.
Romans 3:23 – All people have sinned and come short of the glory of God.
Matthew 5:14 – You are the light of the world.
Psalm 145:9 – The Lord is good to all.
Colossians 3:20 – Children, obey your parents in all things.
James 1:17 – Every good gift and every perfect gift is from above.
Matthew 28:20 – I am with you always.
Ephesians 4:32 – Be kind to one another.
1 John 3:23 – Love one another.
Psalm 56:3 – What time I am afraid, I will trust in You.
Psalm 118:24 – This is the day the Lord has made; Let us rejoice and be glad in it.
Psalm 119:105 – Your word is a lamp to my feet and a light for my path.
Psalm 136:1 – Give thanks to the Lord, for he is good. His love endures forever.
Luke 6:31 – Do to others as you would have them do to you.
Philippians 4:13 – I can do everything through Him who gives me strength.
Psalm 138:1 – I will praise thee with my whole heart.
John 10:11 – I am the good shepherd.
Ephesians 6:1 – Children, obey your parents in the Lord, for this is right.
Proverbs 30:5 – Every word of God proves true.
Matthew 6:24 – No one can serve two masters.
Deuteronomy 6:5 – You shall love the LORD your God with all your heart and with all your soul and with all your might.
Matthew 22:39 – You shall love your neighbor as yourself.
1 Corinthians 10:31 – Whatever you do, do everything for the glory of God.
Psalm 19:1 – The heavens declare the glory of God.
Genesis 1:1 – In the beginning, God created the heavens and the earth.
Psalm 139:14 – I praise you God, for I am fearfully and wonderfully made.
Isaiah 43:5 – Do not be afraid for I am with you.
Psalm 1:6 – The LORD knows the way of the righteous, but the way of the wicked will perish.
Matthew 28:6 – He is not here, he is risen!
Acts 5:29 – We must obey God rather than men.
1 Thessalonians 5:17 – Pray without ceasing.
1 John 4:19 – We love because he first loved us.
Psalm 46:10 – Be still, and know that I am God.
Proverbs 2:6 – The Lord gives wisdom.
Psalm 150:6 – Let everything that has breath praise the LORD!
Ecclesiastes 12:13 – Fear God and keep his commandments.
Isaiah 26:4 – Trust in the Lord forever, for the Lord God is an everlasting rock.
Galatians 6:7 – Do not be deceived: God is not mocked, for whatever one sows, that will he also reap.
John 11:35 – Jesus wept.
*These child-friendly scripture memory verses are based on the ESV translation. You can compare other translations in parallel at BibleHub.
---
Truth Your Child Needs to Know
We've compiled the ultimate list of scripture verses about children and why children's ministry is so important. This is perfect for encouraging church volunteers and keeping up your own motivation. Jesus loves kids – the Bible makes that clear in so many passages.
Luke 18:16
But Jesus called the children to him and said, "Let the little children come to me, and do not hinder them, for the kingdom of God belongs to such as these.
Luke 18:16 NIV (poster)

Mark 9:37
"Whoever welcomes one of these little children in my name welcomes me; and whoever welcomes me does not welcome me but the one who sent me."
Mark 9:37 NIV
Psalm 127:3
Children are a heritage from the LORD, offspring a reward from him.

More Scriptures for Kids
If you're working with toddlers or preschoolers, you might want to start with the easiest bible verses for kids to memorize. They are included on this page, but some teachers like having just the simplest scriptures on hand.
This printable will give you a scripture memory verse for every letter in the alphabet. This is especially fun with preschool and kindergarten aged, who are just learning their ABCs.
God's Word gives clear direction to both parents and their offspring. These list of verses explain the role and responsibility of mothers & fathers. They also explain the obligation to respect & obey parents. These are great Bible verses for kids to memorize around fathers & mothers' day'
Ephesians 6:1-4
Children, obey your parents in the Lord, for this is right. (2) "Honor your father and mother" (this is the first commandment with a promise), (3) "that it may go well with you and that you may live long in the land." (4) Fathers, do not provoke your children to anger, but bring them up in the discipline and instruction of the Lord.
Proverbs 1:8-9
Hear, my son, your father's instruction, and forsake not your mother's teaching, (9) for they are a graceful garland for your head and pendants for your neck.
Exodus 20:12
"Honor your father and your mother, that your days may be long in the land that the LORD your God is giving you. ~ The 5th Commandment
Proverbs 22:6
Train up a child in the way he should go; even when he is old he will not depart from it.
Deuteronomy 6:7
And you shall teach them diligently to your children and speak of them when you sit in your house and when you walk along the road, when you lie down and when you get up.
Our list of scriptures to included on cards and crafts for Father's Day.
A collection of Bible verses you can add to mother's day crafts or greeting cards.
Remember that gratitude toward God is the foundation of the Thanksgiving season. We recommend these Bible verses for kids to include on Sunday school crafts in November.
The biblical story of Christmas should be front-and-center during the holdiay season. Use these verses for advent readings, children's padgents, or greeting cards.
Real love is best demonstrated in Jesus. These scriptures make plain the great commandment is to love God and the second to love your neighbor. Another important lesson Bible verse for kids can teach.
John 3:16 NIV
For God so loved the world that he gave his one and only Son, that whoever believes in him shall not perish but have eternal life.
---
1 John 3:1 ESV
See what kind of love the Father has given to us, that we should be called children of God; and so we are. The reason why the world does not know us is that it did not know him.
It's not about bunnies and chocolate. Resurrection Sunday is the focus of the Christian message. It's the most powerful and encouraging thing for kids to know. These verses tell the story Jesus dying on the cross and raising again for our salvation.
Once you finish this list, here are some other websites that compiled similar collections of Bible verses for kids.
Please leave us your suggestions to expand this list or share how you will use it in your church, home, or school.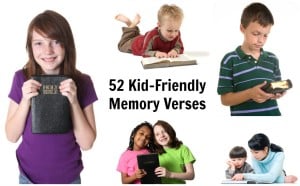 [Total: 10 Average: 4.8/5]