Most children look forward to game time in Sunday School. This page links to our best Sunday school games. We've posted over 100 different ideas, so our search page to find even more.













Game time can can be simple and short, as long as it's fun. Many teachers use this game time as a reward for good participation in the Bible lesson.
Choosing (or inventing) a good Bible game can even reinforce the lesson plan. Of course, games work great in children's church or almost any children's ministry setting.
Sunday School Games for Kids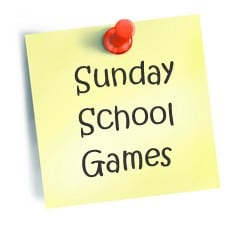 Outside or Gym Friendly Games
Some other great websites for Games!
We love all the creative ideas for kids ministry on the internet – that's why we posted so many! Here are a few other websites where you can get more help!
Group's Children Ministry Magazine shared 10 indoor game ideas for kids. This is a page you should print off and have reading in your Sunday School folder!
Kids Sunday School Place offers some of their best game ideas free, if you buy a membership you get even more!