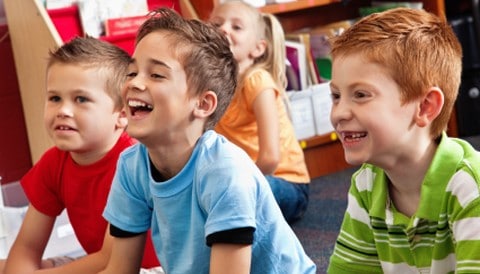 Do you need an icebreaker of sorts for your next children's event? Minute To Win It games are great ways to begin an event, engage a crowd of children, and ramp up excitement. All of the games are played with easily accessible household items, so they are easy to prepare and of no cost to your ministry.
If you play one of these games, you want the child to be successful. You also want the crowd to heap encouragement on the player, so lead the students likewise. If you sense a child is not going to make it in the designated time period, help them out. More challenging games can be interspersed for adults to win or lose (the sillier the better). Have "Thank you for playing prizes" as rewards (whether they win or lose). Have fun! "You've got 60 seconds!"
Minute To Win It Games for Kids
Bucket Head: Catch three balls in a bucket on top of your head.
Defying Gravity: Keep two balloons in the air.
Breakfast Scramble: Assemble the front of a cereal box that has been cut into eight pieces.
Dizzy Mummy: Unroll a small roll of toilet paper with 360 degree spins of the arm. (You may need to unravel some first to make it an attainable task.)
Elephant March: Knock over bottles using a baseball bat hanging from panty hose worn on the head.
Tissue Toss: Using both hands, empty a tissue box.
Play it By Ear: Place five cans with varying quantities of pennies in the correct order. (With a sharpie, place the numbers on the bottom.)
Separation Anxiety: Separate a pile of 25 multicolored chocolate candies into five separate containers in a set color order.
Candelier: Stack four layers of cans, with paper plates in between.
Tweeze Me: Players use tweezers to relocate five Tic Tacs from one bowl to another.
Have you utilized Minute To Win It games in your children's ministry?

NBC provides a list of Minute To Win It games on their website. The following games are adaptations for children to play at home or in children's church. Each game listed here provides a challenge for kids, but should be within their realm of development and skill, particularly for grades third through sixth. You may want to adapt as necessary for younger children.
There is an awesome collection of this games on Pinterest
For more game ideas like this, check out the Minute To Win It games on Growing Kids Ministry and Effective Children's Ministry.
We also like this collection of easy minute to win it games for Youth Ministry.