Perfect for kids (or adults) this list will make Scripture memory EASY with our 52 short Bible verses for kids. Download the print-friendly version and start today! Find spiritual encouragement about faith, family, love, and every situation in life. List updated for 2019.
Print-Friendly Scriptures to Memorize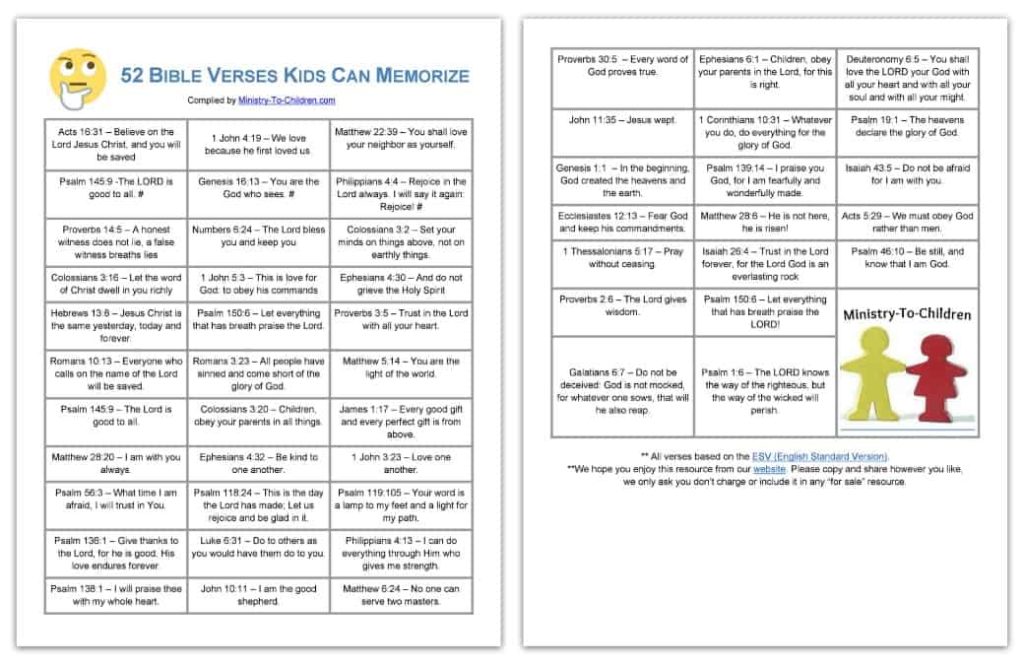 Video Inspiration: 10 Easy Bible Verses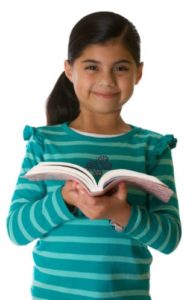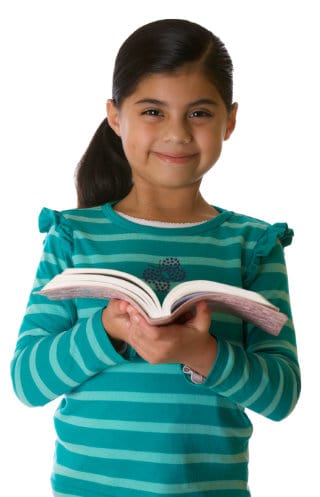 ---
Start small -- build confidence -- see the power of God's Word in daily life!
That's the idea behind this list of simplified and inspirational Bible verses for children. Use these short Bible quotes (aka part A or B of a verse) to easily get across the main idea and help kids hide God's Word in their hearts.
Encouraging Bible Verses & Inspirational Quotes to Strengthen Your Faith --scroll down to see our list of encouraging Bible verses and inspirational religious quotes to boost your faith in Jesus Christ.
Memory-Friendly Verses for Kids
The ABC of Scripture Verses
| Reference | Bible Verse |
| --- | --- |
| Acts 16:31 | Believe in the Lord Jesus Christ, and you will be saved. |
| Psalm 145:9 | The LORD is good to all. |
| Genesis 16:13 | You are the God who sees. |
| Philippians 4:4 | Rejoice in the Lord always. I will say it again: Rejoice! |
| Proverbs 14:5 | An honest witness does not lie, a false witness breathes lies. |
| Numbers 6:24 | The Lord bless you and keep you. |
| Colossians 3:2 | Set your minds on things above, not on earthly things. |
| Colossians 3:16 | Let the word of Christ dwell in you richly. |
| 1 John 5:3 | This is love for God: to obey his commands. |
| Ephesians 4:30 | Do not grieve the Holy Spirit. |
| Hebrews 13:8 | Jesus Christ is the same yesterday, today and forever. |
| Psalm 150:6 | Let everything that has breath praise the Lord. |
| Proverbs 3:5 | Trust in the Lord with all your heart. |
| Romans 10:13 | Everyone who calls on the name of the Lord will be saved. |
| Romans 3:23 | All people have sinned and come short of the glory of God. |
| Matthew 5:14 | You are the light of the world. |
| Psalm 145:9 | The Lord is good to all. |
| Colossians 3:20 | Children, obey your parents in all things. |
| James 1:17 | Every good gift and every perfect gift is from above. |
| Matthew 28:20 | I am with you always. |
| Ephesians 4:32 | Be kind to one another. |
| 1 John 3:23 | Love one another. |
| Psalm 56:3 | When I am afraid, I will trust in You. |
| Psalm 118:24 | This is the day the Lord has made; let us rejoice and be glad in it. |
| Psalm 119:105 | Your word is a lamp to my feet and a light for my path. |
| Psalm 136:1 | Give thanks to the Lord, for he is good. His love endures forever. |
| Luke 6:31 | Do to others as you would have them do to you. |
| Philippians 4:13 | I can do everything through Him who gives me strength. |
| Psalm 138:1 | I will praise thee with my whole heart. |
| John 10:11 | I am the good shepherd. |
| Ephesians 6:1 | Children, obey your parents in the Lord, for this is right. |
| Matthew 11:30 | For my yoke is easy and my burden is light. |
| Psalm 118:24 | "This is the day the Lord has made; We will rejoice and be glad in it." |
| Psalm 27:1 | Psalm 27:1 "The Lord is my light and my salvation—whom shall I fear? " |
| 1 Thessalonians 5:19 | "Do not quench the Spirit." |
| 1 Thessalonians 5:18 | "in everything give thanks; for this is the will of God in Christ Jesus for you." |
| 1 Thessalonians 5:17 | "pray without ceasing," |
| Romans 12:12 | Romans 12:12 "rejoicing in hope, patient in tribulation, continuing steadfastly in prayer" |
2 Timothy 1:7: "For God gave us a spirit not of fear but of power and love and self-control."
Now that you have this list how will you help kids memorize these short memory verses? Our website is packed with tips and games for kids memorizing Scripture. The main point is to make it fun and keep repeating! Even the act of practicing these scriptures will bring you closer to God.
Some readers are hesitant to only teach "part" of a verse. We think it's reasonable to start with the basic parts and then add the longer details as kids grow. Remember the verse divisions are not in the original Greek & Hebrew manuscripts of the scripture. Some of Paul's best quotes ramble on for paragraphs (all one sentence in Greek). If you want to study further, we recommend Bible Hub for their parallel version display. You can compare by chapter with a side-by-side parallel.
Giving kids bite size scriptures will build confidence and empower them to use the WORD of GOD right away. Don't forget the Bible is for living, not memorizing for some test. The point not to just hide God's Word but to share it with the world. That's the calling of every Christian.
26 Short Scriptures based on the Biblical ABCs
This list was first created for kids and follows and ABC pattern. This is another great source if you would like to start here:
A — Proverbs 15:1 A gentle answer turns away wrath, but a harsh word stirs up anger.
B — Luke 6:27-28 But I say to you who hear, love your enemies, do good to those who hate you, bless those who curse you, pray for those who mistreat you.
C — Ephesians 6:1 Children, obey your parents in the Lord, for this is right.
D — John 14:27b Do not let your heart be troubled, nor let it be fearful.
E — Proverbs 20:11 Even a child is known by his doings, whether his work be pure, and whether it be right.
F — Romans 10:17 Faith comes from hearing, and hearing by the word of Christ.
G — Mark 16:15 Go into all the world and preach the gospel to all creation.
H — Deuteronomy 5:16 Honor your father and your mother, as the Lord your God has commanded you.
I — Proverbs 3:6 In all your ways acknowledge Him, and He will make your paths straight
J — Hebrews 13:8 Jesus Christ is the same yesterday and today and forever.
K — Psalm 34:13 Keep your tongue from evil and your lips from telling lies.
L — 1 John 4:7 Let us love one another for love comes from God.
M — Matthew 4:4 Man shall not live on bread alone, but one every word that comes from the mouth of God.
N — 1 Corinthians 2:9 No eye has seen, no ear has heard, and no mind has imagined what God has prepared for those who love Him.
O — Psalm 63:1 O God, You are my God; I shall seek You earnestly.
P — Psalm 106:1 Praise the Lord. Give thanks to the Lord for He is good; His love endures forever.
Q — James 1:19 Everyone should be Quick to listen, slow to speak, and slow to become angry.
R — Philippians 4:4 Rejoice in the Lord always; again I will say, rejoice!
S — Matthew 6:33 Seek first His kingdom and His righteousness, and all these things will be added to you.
T — Psalm 119:105 Thy word is a lamp unto my feet and a light unto my path.
U — Proverbs 16:22 Understanding is a fountain of life to one who has it.
V — Ecclesiastes 1:2 Vanity of vanities! All is vanity!
W — Philippians 4:8 Whatever is true, whatever is noble, whatever is right, whatever is pure, whatever is lovely, whatever is admirable-if anything is excellent or praiseworthy-think about such things.
X — Lamentations 3:40 Let us eXamine our ways and test them, and let us return to the Lord.
Y — Matthew 5:14 You are the light of the world-like a city on a hilltop cannot be hidden.
Z — Luke 19:5 Zacchaeus, come down immediately. I must stay at your house today.
Need more? We've expanded this list into 52 memory verses for kids one for each week of the year. You can also print 10 Bible Verse coloring pages from this list. Don't miss our ABC Bible Verse printable.
More Inspirational Bible Verses for Scripture Memory
If you are ready for a bigger challenge, some Christians recommend memorizing an entire chapter of the Bible. (more tips for scripture learning). This method is great for context and seeing how the small parts are stronger as a whole. We have long recommended Psalm 1 KJV as an inspirational Bible chapter for kids to memorize. We even made a Psalm chapter 1 Bible coloring book to help that effort.
What Scripture translation is best for memorizing short verses?
For verses above we've used the NIV Bible or ESV Bible translations when noted. You can compare the KJV version with a parallel from Bible Gateway.
The scriptures were not written in English -- so the translations question comes down to two principles:
Is this Bible version faithful to the original?
Is this scripture translation in the common language I actually speak?
There can be lots of drama over which translation is the best (especially if your short Bible verses for tattoos!) I like the more common translations like King James Version (KJV), New International Version (NIV), and English Standard Version (ESV). They are well respected by most Christian groups and bring the word of God into modern English.
Some more contemporary translations can be better on specific verses (i.e. the Good News Translation or the Message), but I wonder how these will stand the test of time as informal language changes very quickly. All inspirational Bible verses have on purpose -- to help use grow and engage in a personal relationship withe Jesus Christ.
We'd love to hear what encouraging Bible verses have helped you in hard times throughout life. What short Biblical passages that comes to mind when you experience struggle. Leave a comment below and start the conversation.