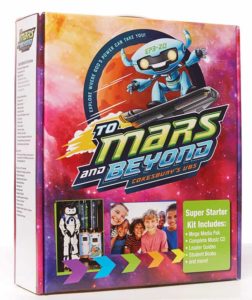 Cokesbury is an important friend to our website and we are excited to let you know about their new VBS curriculum for 2019 called "Mission to Mars."
Glory to God, who is able to do far beyond all that we could ask or imagine by his power at work within us! – Ephesians 3:20
If you're just hearing about this VBS theme, be sure to watch the video below and visit their website for yourself. Cokesbury is a name you can trust for Bible School materials and each year they keep getting better. Click here to download their theme / Bible lessons overview.
The giveaway on this post has ended and the winner notified by email.
One small step for your kids…one giant leap for God's Kingdom!
Blast off with the first VBS to land on the moon! Cokesbury's To Mars and Beyond will help kids discover the wonders of God's universe. They'll become Voyagers on a journey through space, exploring where God's power can take them. Beginning in your Assembly area-an outpost on Mars-they'll lift off to distant planets on special missions to collect power sources. Along the way, they'll learn how God walked with heroes of the Bible, and that God is always with them, too. Add to the adventure with out-of-this-world fun, learning, and timeless Bible stories that inspire kids to give glory to God, who is able to do far beyond all that we could ask or imagine!
The theme verse (Vector Verse) is "Glory to God, who is able to do far beyond all that we could ask or imagine by his power at work within us." —Ephesians 3:20, CEB
The To Mars and Beyond Super Starter Kit has everything you need to help your kids explore where God's power can take them! It includes:
Director Guide
Leader Guides for Bible Storyteller, Preschool/Kindergarten, Craft, Music, Science, Assembly, Recreation, Decorating, and Reflection Time
Sample copy of age-level student books for Preschool/Kindergarten, Younger Elementary, and Older Elementary
Complete Music CD
Samples of publicity and craft materials
Mega Media Pak
Access to FREE online registration for your church (CokesburyVBS.com)
Offer for free download of Mission and Snack Leaders
Sessions include:
Session 1 – Go Beyond with Faith! Daniel Trusts God in the Lions' Den (Daniel 6)
Session 2 – Go Beyond with Boldness! Queen Esther Takes a Stand (Esther 4-9)
Session 3 – Go Beyond with Kindness! The Good Samaritan Helps a Fellow Traveler (Luke 10:25-37)
Session 4 – Go Beyond with Thankfulness! Jesus Heals 10 Lepers (Luke 17:11-19)
Session 5 – Go Beyond with Hope! Jesus Comforts Friends on the Way to Emmaus (Matthew 24:13-35)
Order by August 31, 2018, and receive a FREE cardboard cut out of EP3-20 – the official To Mars and Beyond puppet! This is a great way to advertise your VBS this fall and winter! (35.44″ x 43.3″ x 13.75″)