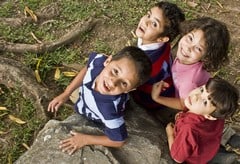 You've worked hard on your Kids Church lesson, but you still need to find one more fun activity to round out the hour. If you have served in children's ministry for long, then you know that down time is the enemy. One great strategy is to always have additional learning activities or games.
Also check out our listing of free Sunday School games for kids.
This page points to hundreds of free church game ideas that can help. Please leave a comment below if you know of more resources like this
Video Demonstations
More Children's Church Games
More Games for Children's Church?
I hope this list of web resources was helpful. If you find another site that offers free Sunday school games, please leave a comment below to let other readers know about it.