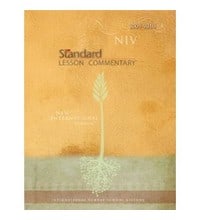 I've always heard people talking about the International Sunday School curriculum for adults, but I didn't really know what that meant. So today I decided to track it down on a whim. Here's what I've found. Click here to leave your own comments or questions about this material.
The Standard Lesson Commentary is an annual book put out by Standard publishing. They have a few versions to cover major Bible translations. The design is to have 52 weeks of lesson plans all in one book. The primary aim is for adult Sunday School classes, although many teachers modify it for other age groups. The book is available on Amazon.com
If you're looking for free Sunday School lessons, then you should browse our online resources.
There are websites that offer help and extrapolation on the printed book. One helpful example is a site called Jesus is All. They offer an email service based on the International Sunday School lessons.
You can also visit the official website from Standard Publishing to view samples of the printed book.