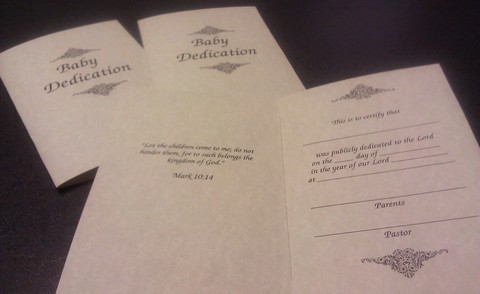 I didn't like buying baby dedication certificates and wanted a little more control over what information was required for the form. So put together this simplified keepsake to give parents after the ceremony with their child.
Download:
Just be sure to print these on certificate or heavy resume style stationary. You should print the document 2-sided and then fold into this bulletin format.
This is an important keepsake that families will cherish as their children grow in the Lord.  I've also left space for the pastor to write his own short note or prayer under the Bible verse on the inside flap. This extra touch will mean even more in years to come.
Curious about how other churches handle the dedication of infants? Read our think-tank post where children's ministry leaders share about how their church conducts this service.