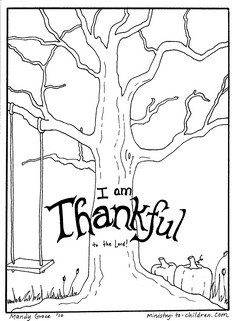 Enjoy these free Thanksgiving coloring pages created by Mandy Groce. It can double as a Thanksgiving craft and learning activity to help children think about specific blessings in their lives.
This would be the perfect addition to your Thanksgiving Sunday School lesson. I plan to use it in my children's church during November.
> Download all 5 coloring sheets in one PDF file. Otherwise you can follow the links below to preview them.
Directions: To download this free coloring page, simply click the preview images for the printer friendly PDF files. We've also uploaded them in high resolution jpegs for advanced editing. Use these download links:
The tree coloring page has the words "I am thankful to the Lord." It has bare tree branches, pumpkins, and a child's swing. The second page has leaves where children can write in things for which they are thankful.
Mandy offered these thoughts about the pages. Be sure to leave her a comment if you want to thank her for this free material.
I planned these as an activity coloring sheet option, but the first sheet can be used for coloring only (younger kiddos). The idea being that the second sheet involves teacher/parent/student writing things that the student is thankful for. Once written, colored and cut, the tree can then be "trimmed"…

Here is a second coloring sheet for Thanksgiving. This one shows a traditional family seated around the dinner table. The captions says "Be thankful in all things." This would be a great family activity sheet. This resource is also free to use in any ministry context.

This coloring page features a Pilgrim family and their prayer of Thanksgiving to God as their ship arrives safely. It's  a more historical approach to the holiday and would be great for homeschool or Christian schools.  Also illustrated by Mandy Groce.
Don't miss our newly updated free printable Christmas coloring pages for kids.
Need More Ideas? Many has also posted an printable Autumn Coloring page. You can browse all our free materials for Thanksgiving. These include a thanksgiving Bible lesson and Thanksgiving craft ideas.