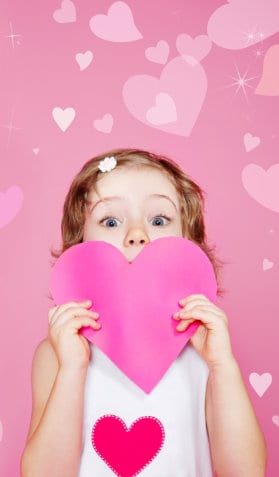 We serve a God who loves the entire world so it makes sense to celebrate Him on Valentine's Day. Besides sugar-laden treats, heart crafts and passing out Valentine cards, you'll probably need a few games for your children's ministry parties. With a few supplies and some preparation, you can offer these exciting four games to your kids. (Prepping for these games also make good activities to interact with volunteers.)
Valentine Pop
This Valentine's party game requires balloons (helium or air-filled) slips of paper with verses on them, scissors and string. Before the kids arrive, tuck one "love" themed verse in each balloon. Fill the balloons and tie them to strings. Invite kids, one at a time to pick a balloon, pop it and read the verse inside. (Be prepared. Some children may not want to pop their balloon. That's okay. You can send them home.)
Spell It
For this party game, you need two dry erase boards, markers and erasers. Position the boards so they aren't facing one another. Divide your class into two groups. Write the phrase, "Happy Valentine's Day" at the top of the board. You could also use, "love one another," or "God loves us all." When you give the signal, the teams must work together to come up with as many words possible using the phrase you provided. Give them one to two minutes, then change the phrases. If you're operating on a limited budget, sheets of paper work too!
Find God's Heart
Cut a heart from construction paper and write the word, "God" in the center of it. Hide the heart somewhere in the room. At some time during your lesson, tell the kids you hid "God's heart" in the room somewhere. Give them one minute to find it. Under the seat, in a Bible or at the Welcome station are good places to hide a paper heart.
Follow the Hearts
This a great game if you have volunteers who don't mind cutting out hearts! Cut out several dozen hearts in different colors. You need many red hearts for this game. You'll also need clear packing tape. For this game, use the verse from 1 Corinthians 13:4; "Love is patient and kind; love does not envy or boast; it is not arrogant or rude." Write one word on each heart. You'll  arrange the hearts on the floor like a game board. The kids should be able to step from one heart to another. Tape each heart in place so kids don't slip on them. (This works best on carpet!) The object of the game is to navigate the hearts from start to finish using the right words. (I put the right words on the red paper but you don't have to.)
Let's reclaim this day for God! Make Valentine's Day in your children's ministry a day to celebrate God's great big love!
Read more from Mimi by following her blog at Tools for Kids Church.