What are your favorite children's Bibles right now? What would you suggest for parents wanting to make Bible story bedtime a habit in their family?
Our Top 7 Picks for Children's Bibles
We hope you recognize your favorites in our selection. Please leave a comment below to share your opinions. Our website is a free resources (aka we don't sell anything) but you can support our work by purchasing through the links below. Enjoy and may these books inspire a new generation to grow in their love for God's Word!
#1 The Jesus Story Book Bible
Our pick for most "Gospel Centered" kids Bible.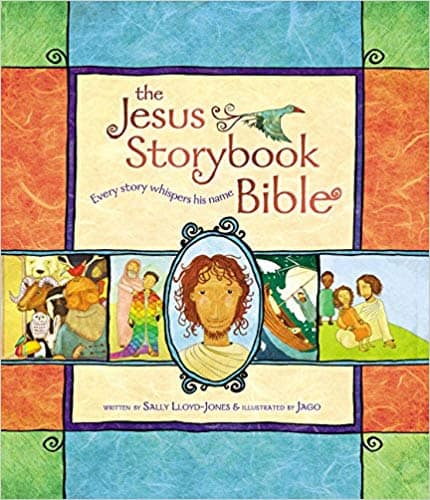 This runaway best seller shows how every part of God's Word points forward to Jesus. "If you are a parent, grandparent, pastor, or teacher looking for a way to teach the children in your life about God's "Never Stopping, Never Giving up, Unbreaking, Always and Forever Love," look no further than The Jesus Storybook Bible."
Our Take: This is a serious chapter book and will challenge early readers, but would be perfect for bedtime reading with a parent. Price: You can find the hardcover on Amazon.com under $15. Don't miss their beautiful gift edition.
---
#2 NIV Adventure Bible for Kids
Our pick for your child's first "grown-up" Bible.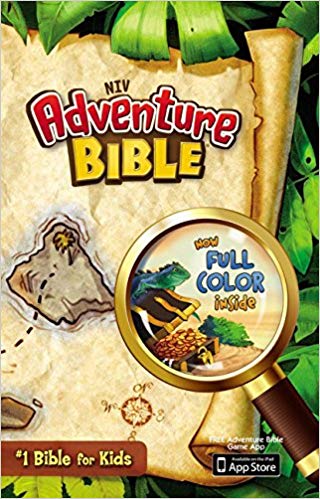 This is our choice for kids read to move-up to their first full length "real Bible." Do you want to take your kids on an adventure through the Bible? The bestselling NIV Adventure Bible will get them excited about God's Word! Kids will be captivated with the full-color features that make reading Scripture and memorizing their favorite verses engaging and fun.
Our Take: The Adventure Bible has been trusted for many years, they keep updating the notes to make it better. The editor of this project is Lawrence Richards, one of my heroes in the field of Christian Education. Price: The hardcover is $24 on Amazon.
---
#3 The Action Bible
Our pick for the best story Bible for boys.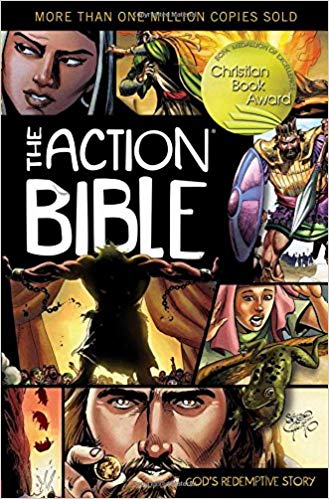 This is our top pick for boys (and girls who like comic books). "It features a captivating, up-to-date artwork style—making it the perfect Bible for today's visually focused culture. The Action Bible presents 215 fast-paced narratives in chronological order, making it easier to follow the Bible's historical flow—and reinforcing the build-up to its thrilling climax."
Our Take: My boys wore out two copies over the years and became fans of the greatest hero story ever told. Even early readers love to follow along with the picture. Price: Buy the hardcover on Amazon for under $15
---
#4 The Laugh and Learn Bible for Kids
Our pick for best new kids story Bible.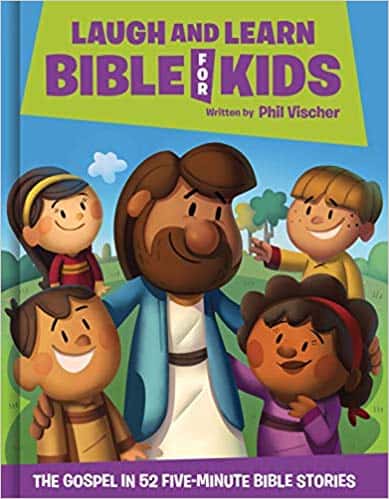 This is the story Bible written by Phil Vischer (Christian media pioneer and the creator of Veggie Tales). This family Bible is more than a children's Bible storybook . . . it's a deep, engaging, laugh-out-loud gospel experience. The Laugh and Learn Bible for Kids will guide readers from Genesis to Revelation, retelling beloved Bible stories AND tackling tricky questions like "What is sin?" and "What is the Trinity?"
Our Take: This one will become a classic and introduce a whole new generation to the joy of God's Word. It's on my Christmas shopping list.
Price: Available to buy on Amazon for $18
---
#5 Kids' Visual Bible (NIV)
Our pick for impressive visuals in a full length kids Bible.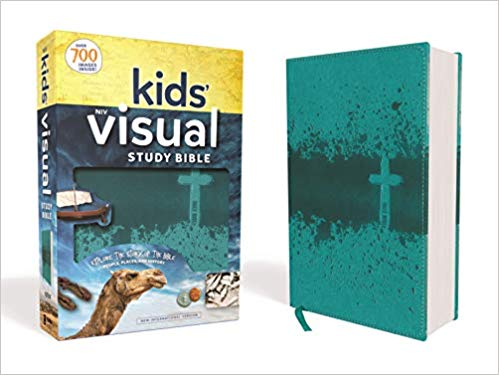 Another great offering from Zondervan. This study Bible for kids includes a spectacular full-color interior featuring over 700 illustrations including photos, infographics, and maps, that visually present key Bible information. The NIV Kids' Visual Study Bible, for ages 8 to 12, brings the Bible to life in four-color illustrated splendor. In addition to the over 700 full-color visuals, this Bible features important facts and study notes located near the relevant verse that make this Bible one kids will want to explore!
Our Take: This is an excellent Bible for any age believer in our visual age. Price: Get it with imitation leather cover $28 on Amazon.
---
#6 The Beginners Bible
Our pick for best preschool Bible stories.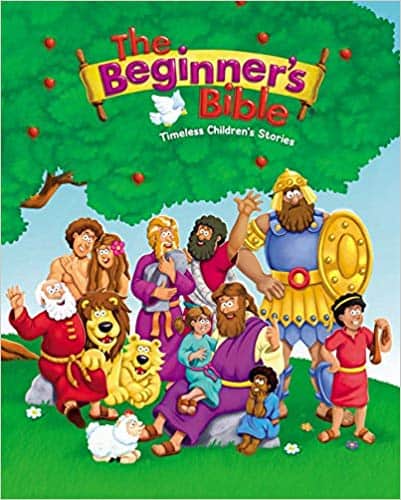 This is the classic preschool story Bible. Kids will enjoy reading the story of Noah's Ark as they see Noah helping the elephant onto the big boat. They will learn about the prophet Jonah as they see him praying inside the fish. And they will follow along with the text of Jesus' ministry as they see a man in need of healing lowered down through the roof of a house. Parents, teachers, pastors, and children will rediscover these beloved parables and so much more as they read more than 90 stories in The Beginner's Bible, just like millions of children before. The Beginner's Bible® brand has been trusted for nearly 30 years, with more than 25 million products sold.
Our Take: It's a classic for a reason, ideal for toddlers and preschool children enjoying these stories for the first time. Price: You can find it on Amazon for just over $16, but I've seen it on sale at Wal-Mart too.
---
#7 The Complete Illustrated Children's Bible
Our pick for beautiful visual adaptations of the scriptures.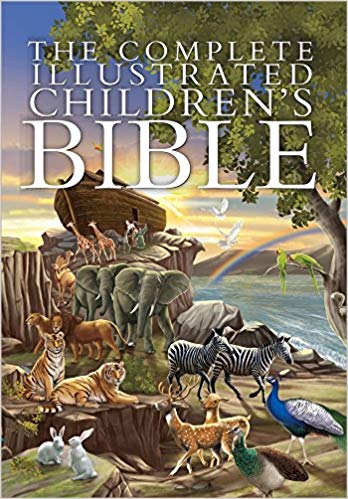 This beautiful volume will help children imagine the scriptures like never before. Lead your child into a lifetime love of the Bible with this colorful storybook. With nearly 300 beautiful two-page illustrations to capture even the youngest child's imagination and heart, this vast collection of the Bible's most-loved stories is just right for sharing together or reading alone throughout the day. The Complete Illustrated Children's Bible is the perfect picture and storybook for young ones and an ideal first reader your children will treasure.
Out Take: This is a great addition to every home library and ideal any age child. Price: You can find it on Amazon for $18
---
Bonus — Bible Infographics for Kids
Our pick for "wish I had this when I was a kid"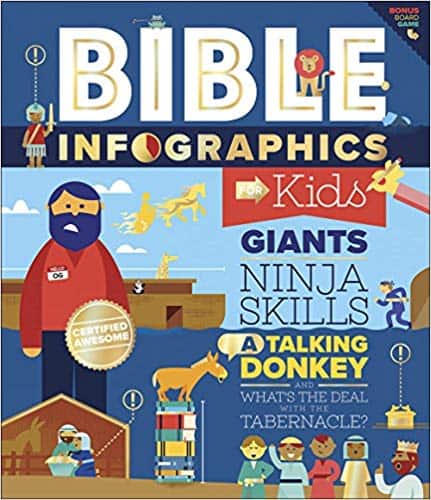 This isn't a traditional story Bible, but it's too cool not to mention. The Bible is far from boring, but sometimes it can feel that way to kids. Spark their excitement for God's Word with this craze-mazing collection of infographic spreads designed to make the Bible come alive for kids and adults alike. These colorful creations visually depict the key concepts, important people, and most unusual facts from the Bible in a new and exciting way.
Our Take: Older kids and even youth will enjoy these facts & figure presentations from the scriptures. I want one for myself! Price: You can find it on Amazon for $13
---
What's your favorite Children's Bible?
You've heard from our team, not it's your turn to share your top Bible for kids. Leave a comment below and help other readers find some new ideas.
---
Looking for More Kids Bible Reviews?
Here are a few websites we trust that offer a deeper look at some of these popular children's Bibles. They even list a few different choices that might help you get some new ideas. Enjoy and may God continue to bless you and your family.
Nathan at Better Bible Teachers shares his in depth reviews of the best Children's Bibles (with lots of pictures).
Okay…there are actually hundreds of kids Bibles on the market…but I went to BiblesByTheCase.com and found the most popular Kid's Bibles and bought them! Why? Because it's one thing to look at at Bible online. You can go on Amazon and "look inside" the Bible, you can get a sense of what's in it and how a child might enjoy it, but until you actually hold it in your hands and "use it" you don't really know what it's like.
Rachael from the Thriving Home blog offers her detailed reviews on the 7 must-have children's Bibles.
Our family rotates through a few different children's Bibles with our kids, depending on their age. I find it's helpful to have several different kinds of these books to read from since each one has a slightly different emphasis or way of telling the story. Owning several provides variety for the kids and a fresh way to hear different Bible stories. Here are some of our other favorite children's Bible story books that we go back to again and again.