I was looking ahead at my calendar and St. Patrick's Day is just around the corner. Many churches will plan special activities for the children during their regular Wednesday or Sunday programs. The story of Saint Patrick gives a great chance to add a little church history to your ministry in a way that points to the Gospel.
1. Watch The St. Patrick's Day Video
Check out the Veggie Tales story of St. Patrick video. Assign the following questions to the kids before watching the clip. When it is finished call on volunteers to share what they learned.
What bad thing happened to the boy in the story?
What did the people in Ireland believe about God?
What did the boy do when he was lonely?
What's the deal with the shamrock?
2. Teach a Bible lesson Related to Patrick's Story
You will need to watch your time carefully if you watch the video clip, but you could teach the children a lesson about loving their enemies or sharing the Good News with others. Remind the kids that it was God's grace that helped Patrick to respond in love, even people we call "saints" need Jesus to forgive their sins and empower them to love others.
We've created a free coloring page to use with the children near St. Patrick's Day. It shows a hand holding up a shamrock with the phrase, "3 in 1." This would be a good opportunity to talk about the Trinity and how Patrick may have illustrated this Biblical truth.
3. Plan a St. Patrick's Snack
This could be as simple as sugar cookies with green sprinkles or to make it fun make them shamrock shaped. A glass of milk colored green would be a fun touch. Most supermarkets will also have plenty of St. Patrick's themed snacks available. Check out the St. Patrick's Day ideas I've been collecting on Pinterest.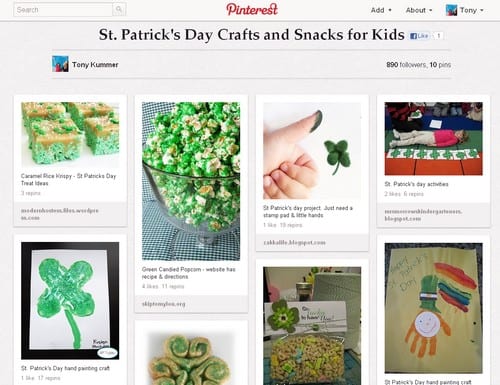 4. Play an "Irish Dance" Game
This is a variation of musical chairs. Have the children in circles of 5-15 kids. As you play the music then need to do their best Irish dance and move around in a circle. (Watch this video if you need inspiration. )When you stop the music they have to quickly sit down on the floor. After a few practice rounds, you can eliminate  one child per round. A non-competitive alternative: just have the kids "freeze" in place and commend them on their funny poses. Connect this back to the Gospel by reminding the children that having the good news about Jesus is the kind of happy message that should make everyone dance.
5. Plan a St. Patrick's Day Craft
I found a few great art and craft ideas from Cullen's Abc's. Here is her video demonstration of the painted Shamrock craft. You might also like her idea for making St. Patrick's Day play dough.