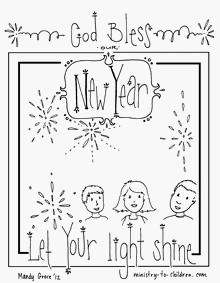 Mandy has created this simple illustration for New Year's celebrations. It shows several children looking up to fireworks and the caption reads, "God Bless our New Year … Let Your Light Shine."
Click on the preview to the right or use the following links to download this free printable.
Like all our resources, this coloring page is 100% free to use in your church, home, or school. See our other resources if you are planning a whole lesson for New Year's this year in your kids ministry.