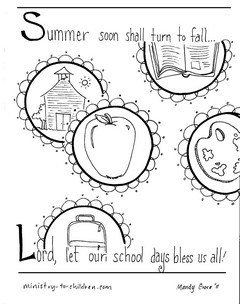 Use this coloring page with your children to talk about going back to school. This can be a powerful teaching moment as kids learn to trust God and appreciate the blessing of education.
Directions: Click on the preview image to the right, or chose a file format from the links below.
This religious Back to School coloring page features several familiar illustrations about school. These include a schoolhouse, apple, art supplies, and books. The test of the coloring page says, " Summer soon shall turn to fall … Lord, let our school days bless us all."
Update: We've added a new first day of school coloring page that would be a great second option if using this sheet.
This coloring sheet could be used at home with your children or in a Sunday School lesson. Here are a few ideas to help start a conversation about trusting God as a new school year begins.
What about going back to school is the most exciting?
Does anything about going back to school make you worry?
What would happen if God didn't give us schools and teachers?
What can we say to God as a pray when going back to school?
We hope you enjoy our free Christian coloring pages. Like all our resources, this printable is 100% free to use in your church, home, or school. We love to hear your feedback. Click here to leave a comment below.