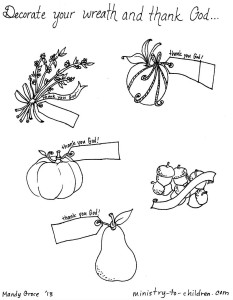 We created this wreath with the hopes that folks would enjoy coloring and assembling it in either small groups (classroom, families, Sunday school, etc.).
The wreath can be printed with multiple copies of the decoration sheet if more children or time allows. Use the following links to download our printable template.
This craft project would be perfect for children around Thanksgiving or anytime your are teaching a Bible lesson about giving thanks to God. For more ideas around this theme, be sure to use our search page or browse our Thanksgiving resource listing.
We'd love to see your finished wreath projects and even post them here on this page as an example to other readers. Just attach them in an email to tony@ministry-to-children.com