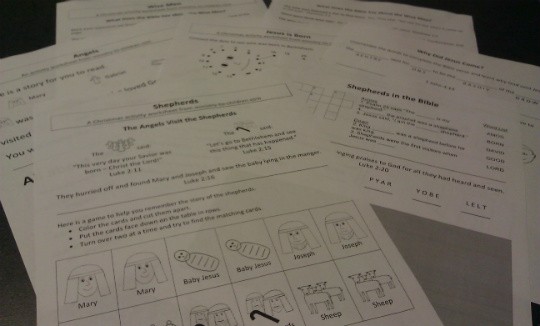 These Christmas activity worksheets review four important Bible stories related to Jesus' birth – Gabriel visits Mary, Jesus is born, the shepherds visit Jesus, and the wise men visit Jesus. They can serve as kids' bulletins for regular worship or be used in Sunday School or children's worship. Some of the activities are more suitable for older children; younger children can always color the pictures even if they can't read.
Each worksheet consists of two pages, which should be printed back to back. Pencils and crayons need to be available. Scissors are also needed for the shepherds worksheet, but if necessary, the children could do the cutting when they get home.
If you are in a hurry, you can download all the files linked above in one combined PDF document. We'd love to hear your feedback about these Christmas Sunday School activities. Simply leave a comment below. You can also browse all our free lessons and ideas for Christmas in your children's ministry.